Leeds United fans have been reacting to some rather poetic comments made by Marcelo Bielsa in his press conference.
This season has certainly been something of a roller-coaster of emotion for Bielsa. Whilst there are some who have branded their style of play 'entertaining', there have also been some critics along the way, which has led to him having to defend himself after their 6-2 loss to Manchester United at Old Trafford back in December.
However, it appears as though he has turned over a new leaf when it comes to dealing with comments from those outside the club, as speaking ahead of their game with Burnley this weekend, the Argentinian, in a rather dramatic fashion, explained how he prefers to listen to people within the club rather than outside it:
"I care about the people who are close to us and what they think. The sentiment they have acts as a light".
And when Leeds United fans saw these comments on social media, they couldn't help but fawn over his comments and pile on the praise:
"Every time he speaks, he utters a little gem of wisdom like this. What must it be like to know the man personally? Language barriers aside, being in his company must be utterly captivating."
"I know as fans we always want to win things but honestly how good an how perfect would it be if we could do a Leicester with this man in charge,it would be so fitting for him to achieve such a thing with us and could then go down in history with Don and with the title as a legend"
"Another statement"
"Announce 2-year deal on this beautiful human"
"There's really nobody like him in football, and I'm not sure there ever will be."
"The players would run through brick walls for him, the fans hang on to EVERY word he says. What a man. One word and one word only…. GOD"
Does Bielsa deserve a statue outside Elland Road?
Yes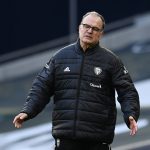 No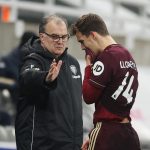 The love-in between the fans and Bielsa is well-established at this point, but you can just add this incident to the list to keep the love affair going.
In other news: 'Statue back on', 'He's a king' – Many LUFC fans delighted with latest transfer claim