Journalist Gavin Berry thinks that Rangers could be better off letting Jermain Defoe go this summer in order to save money at Ibrox.
The 38-year-old has been a pretty decent servant to Rangers ever since he first signed for them in 2019, having scored 29 goals and chipped in with 10 assists in just 66 games, although the production has dropped off somewhat this season compared to last.
He is set to be out of contract at the end of the season, and speaking on the Record Rangers podcast, Berry felt that whilst Defoe has done well during his time at the club, that the time was right for him to be allowed to move on so that the club can spend the money that they would be spending on him a little bit better.
He said: "I suppose at some point you need to get ruthless. And, you know, you look at his age, you have to weigh up how much he's being paid, and whether that money could be better spent if he's not going to play a lot.
"I mean, there's no doubt Jermaine Defoe has done the job Steven Gerrard wanted from him when he signed him in terms of having an influence on people off the park. And in terms of contributing on the park, you know, he's done that when called upon. But I just wonder whether he has served his purpose."
Yes
No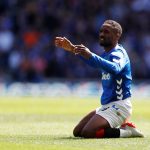 TIF Thoughts on Gavin Berry's comments about Jermain Defoe's future…
According to reports, Defoe is being paid £35,000 a week at Ibrox, based off him taking a 65% wage cut from his £100,000-a-week wages at former club AFC Bournemouth.
And given the reported financial situation that Rangers are in, unless Defoe is likely going to be their main man next season and someone they cannot afford to lose, then letting him go is the right decision for them.
Berry puts it right by saying he has 'served his purpose', the league title has been delivered, so now it's time for Rangers to move on to the next stage of their progression, and keeping hold of a 38-year-old on such high wages probably isn't the best way to make that happen.
In other news: 'Losing money on a day-to-day basis' – Kieran Maguire drops Rangers financial claim