Former Premier League striker has suggested Son Heung–min could begin to consider his Tottenham future were Harry Kane to leave the club this summer. 
Kane's long-term future has come under increased scrutiny recently after Spurs crashed out of the Europa League and remained wholly inconsistent in the Premier League.
That's despite the talismanic England captain enjoying an incredible campaign, alongside Son, netting 19 times in the league and making 13 assists.
Unsurprisingly, the 27-year-old has been embroiled in heightened speculation as Manchester City go in search of a Sergio Aguero replacement and Kane perhaps considers whether he wants to compete for major club honours on a regular basis.
Windass, who played for three clubs in the English top-flight, has told Transfer Tavern that Spurs would have to guard against Son following suit:
"Money talks. I've heard many chairmen and managers over the years say 'he's not leaving' and then three weeks later he's gone. Players have got the power to put in a transfer request.
"If Harry Kane goes to Man City, if you were Son what would you be thinking? You lose your top striker, then where are you going to go from there?
"If Tottenham reach the Champions League this year that might entice Harry to stay, but I think if Harry does leave then he [Son] might be sat at home thinking, 'well'. And then all of a sudden the manager and owners have got a problem, if you lose them two players – it's like a pack of cards."
There's little doubt both Son and Kane will be highly sought after this summer, especially were Spurs to fall short of Champions League qualification.
The deadly duo have linked up to devasting effect this season and both have proven their quality time and time again, rescuing Jose Mourinho's side from numerous sticky situations.
Whilst the club would suffer badly were either star to leave the club, losing both in one fell swoop would prove to be a crushing blow.
Who would be the bigger loss?
Harry Kane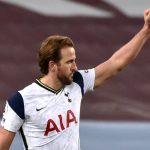 Son Heung-min