A lot of Newcastle United fans have flocked to a post from Allan Saint-Maximin, which was a meme in response to a video of Joe Willock's goal against Tottenham Hotspur.
Willock came off the bench to grab a point for the Toon, which moved them three points clear of the relegation zone with eight games to go.
Saint-Maximin started the move that ended up with Willock rifling the ball into the net as he weaved his way past a couple of Spurs players before finding an intelligent ball to Matt Ritchie.
This post from the Frenchman drew the attention of these Toon fans who praised him.
"I love you Allan with all my heart"
"Great to have you back lad. Need you!!!!!!"
"Lovely to see back in black & white"
Do you think Saint-Maximin can keep Newcastle up?
Yes, he could be the difference
No, need more than just him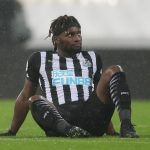 Saint-Maximin had not featured for Newcastle since their 1-1 draw with Wolverhampton Wanderers, but he came off the bench in this one to help his team win what could be a crucial point.
This post from the 24-year-old continued to attract Newcastle fans.
"Maxi please keep us up! I'm begging you, just please"
"Class, Allan"
"Pls stay fit and do goals"
The Toon face Burnley next, and if they play as they did against Spurs, then you would think they have a good chance of getting three points, and they will also have to hope that Saint-Maximin is fit and ready to play.