Celtic fans have taken to Twitter to slam on-loan defender Shane Duffy for what they feel to be a poorly-timed tweet.
On Saturday lunchtime, the £6.3m-rated defender responded to a video of a goal he scored whilst at parent club Brighton & Hove Albion, calling it "the good old days".
However, this did not sit well with the Celtic fans, who were preparing themselves to be handed another blow in their quest for '10 in a row' with their Old Firm rivals all-but securing the Scottish Premiership title hours later.
Duffy has featured 18 times in the league for Celtic this season and has netted three goals across those appearances.
The on-loan defender has received heavy criticism this season from the Bhoys fans, with many feeling he has not lived up to expectations given the amount of money invested in him.
"Ah the good old days before you were a Celtic player… how we hope for their return…"
"Aye the good old days, before we had to see you in a Celtic Shirt."
"Read the room Shane, you have been an unmitigated disaster at Celtic but at least you are being well paid for your troubles."
"Yeah, the good old days when we didn't have to watch you getting embarrassed each week by bang average players. I really hoped you would have been a good Celtic player but what a let down you have been. Only another 12 weeks&you can head back to Brighton&re-live the good old days."
"The good old days before you came to Celtic, then forgot how to play football. Shambles."
"Well, there's a plane to Gatwick in the morning pal – work issues. Cheerio. One of the worst players I've ever seen pull on a Celtic shirt."
Yes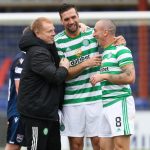 No