Lots of Celtic supporters are enraged at Leigh Griffiths after a news update emerged about the Scotsman.
Former Celtic star John Hartson was recently talking to the Go Radio Football show (via the Daily Record) and he gave his opinion about Griffiths' situation at Parkhead.
The Welshman said that Celtic haven't given Griffiths enough opportunities to score goals to play because he is perhaps a bit out of shape. But Hartson said that during his playing days, even he was a bit overweight himself but Martin O'Neill still played him regularly. Hartson made it clear that personally, he would have played the Scotsman.
Should Griffiths leave in the summer?
Yes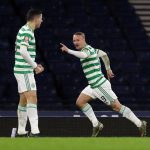 No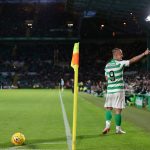 Hartson's comments were relayed on Twitter by the Daily Record and Celtic supporters were fuming at Griffiths.
What do Celtic fans make of comments about Griffiths?
"Leigh Griffiths is done at the top level of football. Don't get me wrong he's still capable of scoring a load of goals but who in their right mind is going to trust him enough to give him a 3-year contract now? Were he on a pay-per-play basis, he'd be as well working for Amazon."
Credit: @tiffer67
"Leigh Griffiths only thinks of himself, he came back unfit time to say bye.

"
Griffiths had turned up for pre-season training in an overweight condition and this led to former manager Neil Lennon publicly slamming the striker for his fitness and his activities on social media. Even later in the season, Lennon had criticised Griffiths for bad fitness. He is currently valued at £1.35m.
Last year, photos had emerged of Griffiths breaching government guidelines while he was hosting a party. He later reminded of his responsibilities (as per Sky Sports).
"Tbh he should have been shown the door long ago. Can't wait till he leaves so we don't need to hear the excuses given for Griffiths time n time again."
Credit: @jonnybell1989
"Leigh Griffiths only has himself to blame for not getting himself fit and back into both the Celtic and the Scotland team, not Celtic. If anything, he's let us down big time. It's time for him to show his worth and repay his faith in the club and the supporters who stood by him."
Credit: @DMMacdonald96
"Too right John, I blame Celtic too. Guess he'll have to look at leaving for the benefit of his international career. It's a shame but it must happen, this summer maybe? Hopefully, please leave."
Credit: @_RH88_
Credit:  @MLTim88
"He's no right to be playing for us or Scotland, guys a liability"