Sky Sports reporter Roger Clarke has been speaking on the latest edition of Sky Sports' Pitch to Post podcast about all of the Premier League's latest news.
One of the topics that Clarke spent some time on was Jose Mourinho and his future after Spurs' defeat to Arsenal left them five points off the to1p four in eighth position.
Tottenham are still in the UEFA Europa League and hold a 2-0 advantage over Dinamo Zagreb going into their last-16 second leg on Thursday.
They also have the final of the Carabao Cup coming up next month, so there are still trophies to fight for.
However, as it stands, they will not be breaking into that top four this season.
This led Clarke to discuss Mourinho's future.
He said: "This is only Jose's first full season. He has got them to a final. He's a big, big name for Spurs to have; if they were to get rid of him, who comes in?
"Who else is out there with his track record, with his history? They're a club with great traditions, a club with a great name, but they haven't got a great history of actually winning trophies.
"Right now, they've got a manager who does have a history of winning trophies. So to get rid of him after one full season and part of a season before, that would be an extremely bold move, I think – an expensive move, probably, as well."'
Do you think Mourinho will win Tottenham a trophy?
Yes, that is what he does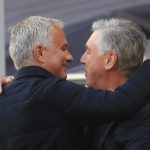 No, he is finished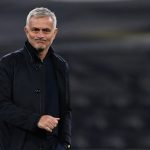 TIF Thoughts on Mourinho's future at Spurs…
The former Chelsea manager has won over 30 trophies in his time as a manager, including two Champions League trophies and three Premier League triumphs, so he has proved plenty of times in the past of his ability to win things.
In comparison, Tottenham have only won 26 major trophies in their entire history, so Clarke makes a good point that if Spurs want to win something, Mourinho is probably well-placed to change their fortunes.
He still has two opportunities to win at least one trophy this season, and if he were to do that, then you would think that this season has to go down as a success regardless of where they finish in the league.