A lot of Tottenham Hotspur fans have taken to Twitter to voice their thoughts on the latest rumour to emerge regarding their on-loan striker, Carlos Vinicius. 
Spurs signed the Brazilian on a one-year loan deal from Portuguese side Benfica last summer, but it has been reported by Football Insider that they are unlikely to take up their option to buy the 25-year-old.
A lot of the Brazilian's minutes in a Spurs shirt have come in the Europa League, where Vinicius has made eight appearances and netted six times (via Transfermarkt).
Vinicius was brought in as a backup to Harry Kane, however, the English striker has been in scintillating form this season which has seen him score 16 goals in the Premier League alone this season.
From the replies on Twitter, it appears a lot of Spurs fans are pleased the club will not be spending the reported £38m to make Vinicius' stay in London permanent.
"He's been ok but we'd be crazy to spend 45m on him, if they're willing to drop the price to 20-25m I'm in."
"Has been decent for us to be fair, but you would've expected more for €45m. Wise move, probably."
"That totally makes sense. We don't have enough o sign a cb let alone spending 45 mil on a player Jose doesn't even play."
"I like him but the fee is way over the top and clearly Jose doesn't trust him enough to rest Kane, which is the whole point. Better to spend the money on Ings."
"This is how it will be every year, we'll loan some striker in, never play them in league games and send them back."
"Thank god for that. Roll on the next way below average striker."
Should Spurs sign Vinicius for £38M?
Yes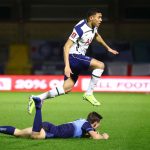 No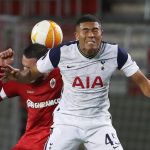 It is clear to see while some fans believe Vinicius has done a satisfactory job as backup to Harry Kane, they also believe the price Benfica have set on him is far too much for a player who has only played 168 minutes in the Premier League this season.