Tottenham Hotspur fans have been reacting to Pierre-Emile Højbjerg's message following their victory over Burnley in the Premier League.
Højbjerg, valued at £27m on Transfermarkt, put in a 7.2 performance according to WhoScored, which was actually the lowest rating of any Spurs player on the day, but that just shows you how good the rest of the team's efforts were on the day.
He posted a message on social media afterward, in which he called it a 'very solid performance', which Spurs fans flocked to in order to show their support. Although most of the attention seemed to be centred around his ankle after he appeared to roll during the second half:
"You twisted your ankle and you still wanted to play what a viking warrior you are Pierre my future captain"
"Hope your ankle is okay Pierre as it looked nasty in the replay. Rest up and take it easy! Well played and we go again on Thursday"
"You are the man Hojbjerg. Loving having you at Spurs, hopefully for a long time yet, exactly the player we need in midfield"
"Get bored of saying this but unsung hero yet again, your work on the pitch is unmatched so glad your part of my team."
"Fuel for the tank. Rest up, Viking."
"Bossed the middle if the park as always. Hope your ok that twist looked painful"
"Are you okay with your injuries? Most worried From Japan"
"Are your feet okay? I'm worried"
Should Pierre-Emile Hojbjerg have the captain's armband at Spurs?
Yes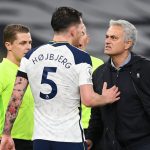 No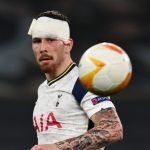 It was a victory that kept Spurs' brief hopes of qualifying for Europe through the league alive, with their game in hand set to be crucial in keeping tabs with the teams above them, so let's see if they can take advantage of it.