Newcastle United journalist Mark Douglas has been sharing his criticism for the current ownership at the Tyneside club. 
This comes after Douglas made an appearance on a recent episode of The Chronicle's Everything Is Black & White Podcast where he spoke about a number of topics concerning Steve Bruce's side.
On the subject of the current ownership at St. James' Park and how the club have fared under Mike Ashley so far this season, Douglas had this to say on the matter.
He said: "It's just a mess, it's always been a mess.
"It needs a total new ownership group, it needs people in there and I think part of the problem is that I don't think that the people involved in the football club right now were expecting to be in charge this season and they had to instead go through the whole cycle of running a football club, having all these big decisions to make when they didn't think they were going to have to make those decisions.
"Ultimately, if they'd have acted earlier with Steve Bruce, I don't think they would have been in the situation they're in and if they couldn't see the alarm bells ringing after the Brentford, Sheffield United results and even what went before then, it was inevitable that this was going to happen."
During this current season, Newcastle were knocked out of the Carabao Cup by Championship side Brentford, knocked out of the FA Cup by Arsenal and currently sit in 17th place in the Premier League table, two points above the relegation zone with a game in hand over 18th place Fulham.
TIF Thoughts on Mark Douglas' comments on the Newcastle ownership…
Given how the widely-reported £300m Saudi-led takeover of the Tyneside club collapsed last year after the consortium pulled out of the proposed deal, it's understandable why Douglas has suggested that the current ownership at St. James' Park may not have expected to be in the position that they are in at this moment in time.
Do you think the failed takeover has had any impact on Newcastle's season?
Yes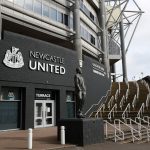 No
However, with Ashley having been in charge of the club since 2007, the collapse of the proposed Saudi takeover should not be an excuse for Newcastle's failings this season or the fact that they are currently in a relegation battle.
In other news: 'It's a big problem' – Mark Douglas delivers verdict on Steve Bruce's Newcastle future