Newcastle United journalist Mark Douglas has been sharing some details on the relationship between Toon manager Steve Bruce and his assistant coach Graeme Jones. 
This comes after Douglas made an appearance on a recent episode of The Chronicle's Everything Is Black & White Podcast where he discussed a range of topics concerning the Tyneside club.
On the subject of Bruce's relationship with Jones and the current dynamic between the pair on the Newcastle touchline at this moment in time, Douglas had this to say on the matter.
He said: "I think it must be difficult in some ways for Jones to be in there because as much as the noises from everybody officially are that this is a harmonious relationship, it must be pretty clear to Bruce that Jones has been brought in there because things aren't going well.
"I think it's pretty clear that Jones has had an influence on tactics and an influence on the system, Bruce is still picking the players, Bruce has the final say but there's no doubt in my mind that Jones is now starting to do quite a lot of the practical stuff there as well.
"Are they singing from the same hymn sheet? I mean yes because ultimately I suppose Bruce is the number one voice, so he takes the big calls and he makes the big decisions, but it's a very strange dynamic."
Jones was appointed as Bruce's assistant coach back in January from Championship club AFC Bournemouth, where he had the same role.
TIF Thoughts on Mark Douglas' comments on Bruce's relationship with Jones…
Given how Newcastle have only managed to win two Premier League games since Jones joined up with the rest of the coaching staff towards the end of January, it's hard to see what improvements the team have made since his arrival.
Do you think there could be a potential issue between Bruce and Jones?
Yes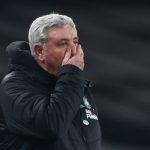 No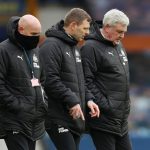 Moving forward, with the Toon currently just two points above the
relegation
zone with nine Premier League games left to play, Jones and Bruce will need to make sure they are working together for the good of the team if there is a potential rift between the pair, so they don't end up in the Championship next season.