Lee Ryder has provided an update on the latest surrounding Steve Bruce and his position as head coach at Newcastle United.
Bruce's job security has been brought into question recently following Newcastle United's poor run of results that has dragged them into a relegation battle with the likes of Fulham and Brighton & Hove Albion. Despite this though, recent claims have suggested that he still has the backing of owner Mike Ashley to get them out of this mess.
And speaking during the Everything Is Black And White Podcast, Ryder says that the club aren't in the position to press the panic button just yet, and will only do so if things get really desperate for them, but even that has an element of danger attached to it.
He said: "Even if they finish fourth-bottom and scrape to safety, as long as they're on course to stay up, I think he will be there unless there's an alarming slide. If they lose the next three or four games, then they have genuinely got a decision to make.
"But would they have then left it too late? That's the big question. There were 10 games [after Steve] McClaren, it was eight games when Alan Shearer came in to replace Joe Kinnear in 2009. So look, the history tells them that changing manager hasn't worked twice."
Will Steve Bruce last the season at NUFC?
Yes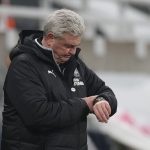 No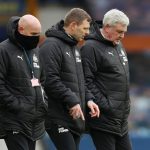 TIF Thoughts on Lee Ryder's comments about Steve Bruce's position at Newcastle United…
Ryder's comments frame Newcastle United's situation as 'damned if they do, damned if they don't'. As Ryder mentions, McLaren was sacked too late into the season during his tenure to make a difference in 2015/16, and the same goes for when they sacked Kinnear in 2008/09. And as Luke Edwards backs up in The Telegraph, those examples are what's leading Ashley to stick with what he has got.
But at the same time, the club cannot just carry on with the blind faith that they have in Bruce, who has been part of the reason they've got in this position in the first place, so whichever way they go about things, there is probably going to be criticism in one form or another.
Of course, the easiest way to quieten any talk about his position would simply be to start winning games, but would that even be enough given how toxic things have become?