Newcastle United fans have been reacting to a post from Andy Carroll on his Instagram page.
With options for Newcastle United up front incredibly limited at the moment given the injuries to the likes of Miguel Almiron, Callum Wilson and Allan Saint-Maximin, the likelihood of him getting more minutes should be going up, in theory. Alas, he's only been afforded 13 minutes across the last six Premier League games.
And whilst some mitigation has to be granted when you consider his own track record when it comes to injuries, you'd think that given the situation Newcastle are in at the foot of the table, the more forward he can get on the pitch to score goals, the better.
Posting on his Instagram account yesterday, the 32-year-old, valued at £2.88m on Transfermarkt, left a simple message saying that he was 'Here In Black And White'.
This image was relayed to the fans by The Chronicle on its Twitter page, and hinted that there might be something cryptic about the message, with the fans gave their own thoughts as to what that message could be, as many of them saying he should be playing more:
"Of course he is. He's being made a fool of. Bruce humiliating him by putting him on with 30 seconds left."
"Pretty sure we beat west ham first game of the season with him and Wilson up top. Why can't we do that with him and gayle? Put Fraser and Ritchie wide to cross the ball in to them."
"With the usual three out, Bruce should be getting a game plan around him. He needs a run of games now to show us what he can offer"
"Everyone slags Carroll off as if he's had loads of game time. How many starts as Carroll had in the PL over the past 2 seasons? Not many. Has he had a run of fixtures in the team? No. I'd much rather he was up top fighting for us than that useless system we used v WBA."
"Anyone with half a brain would have played him & Gayle against WBA he hasn't and we are going down"
Do you think Carroll still has what it takes to play in the Premier League?
Yes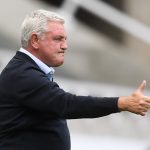 No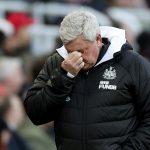 Of course, it could all just be a lot of fuss over a lot of nothing, but it's still fun to speculate.