Newcastle United fans have been reacting to comments made by Paul Merson about Steven Gerrard potentially coming to the club.
The former Liverpool man is on the crest of a wave at the moment following his season with Rangers in which they captured their first league title for ten years. And whilst there is plenty of discussion about whether or not the next team he'll manage will be his boyhood club, writing for Sky Sports, Merson thinks that it's possible his next gig could come from elsewhere in the Premier League.
He said: "After a brilliant season at Rangers, I just can't see how clubs won't be coming after Steven Gerrard. I look at teams like Crystal Palace, who are staying up, and Newcastle, if they stay up, and others, will they be knocking the door down for Gerrard? His next step will probably be that."
Merson's views were relayed to the fans by local newspaper The Chronicle on social media, where his words were promptly dismissed, with many fans unable to even comprehend the idea of Gerrard making such a downgrade from the top of the Scottish Premiership to a team that is in a battle to stay in the Premier League:
"Just won his first major honour as a manager and Rangers first in however long… but yeah, leave all that behind to come to a poison chalice that's probably not going to be in the division next year!"
"Imagine!! "Stevie come manage us mate! You can scrap for loan players each season cause we ain't giving you any sort of budget but on the plus side our goals are very ambitious….get us to 17th in the table then job done, fancy it?""
"Some boy Merson like. Why on earth would leave Rangers for us in the current state?!"
"I'd take your arm off for him but never happening under Ashley."
"Why on earth would he join us? Why would he want to work under Ashley? Utter nonsense"
"Not a prayer he is leaving Rangers to work for Ashley. Anyway, Gerrard is an ambitious young manager hungry to win trophies, Ashley doesn't want people like that."
Would you want to see Gerrard managing Newcastle?
Yes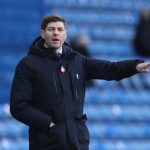 No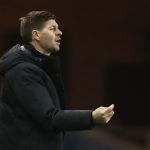 An ambitious call from Merson, but perhaps a little too ambitious given the current circumstances, it would seem.