A lot of Newcastle United fans have flocked to a post from Liam Kennedy that has an image included from the Toon's 1-1 draw with Wolverhampton Wanderers on Saturday.
The image shows Matt Ritchie in discussion with Graeme Jones, while Steve Bruce is watching on.
This is important because Bruce claimed after the match that Ritchie failed to pass on instructions, which led to the Toon conceding a goal.
It seems bizarre that Bruce threw Ritchie under the bus when it is clear from this photo that the Toon's manager didn't attempt to pass on any instructions, and it was all Jones.
This post drew in these Toon fans who had their say.
"im a little suprised bruce didnt say "I gave him a messege and jones changed it" might aswell push everyon infront of the moving car. bruce is driving the car 9/10."
"This is getting ridiculous! What happened to win as a team lose as a team? Pressure getting to those in charge? Managements job to get messages to players? So obvious Ritchies time @NUFC coming to an end? Not of his doing I'm afraid? Much better than Lewis."
"Looks like Bruce hasn't got a clue !"
Do you think this was Bruce's fault?
Yes, everything is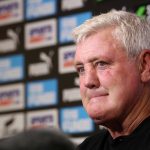 No, this was Ritchie's fault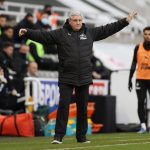 This post continued to draw in angry Newcastle fans.
"Makes you wonder did Bruce also give him instructions shortly after this and these are what he chose to ignore by not passing them on. I've a feeling that's far more likely. And that's why Bruce outted him in the post match interview."
"Surely the point here is that Bruce is blaming Ritchie directly and Jones indirectly and absolving himself from blame. Better than Pontus Pilate at 'washing his hands of the whole affair'."
"What when Bruce stands there with his eyes closed again, wishing that he was a better manager and way of of his depth lol"
"Ritchie also ran straight onto the pitch and to Hayden to pass on the message to him. Bruce looking for scapegoats yet again."
The goal that Newcastle conceded was a total shambles as Ruben Neves found himself totally free in the box, and Martin Dubravka couldn't keep the header out despite getting a full hand to it.
There was clearly a communication breakdown, and it has annoyed these Newcastle fans that Bruce blamed Ritchie.