Former Premier League referee Mark Halsey has given his view on a potentially crucial decision from the game between Burnley and Arsenal at the weekend.
It was certainly a day where referees were in the spotlight following a number of handball decisions that went against the Gunners. However, there was an incident in the second half (21:23, via Match Of The Day) where Burnley's Matej Vydra looked as if he may have been brought down under a challenge from Arsenal's Bukayo Saka when through on goal only to lose his balance and end up scuffing his shot.
The case was not referred to VAR, and speaking exclusively to This Is Futbol, Halsey said that it was right not to bring VAR in on this occasion because it didn't feel like a big enough error to warrant using the technology for:
"Yeah. I mean, on that situation, it's subjective isn't it? It's subjective, and was it a clear and obvious error? I've been very vocal this season with VAR getting involved when it's not a clear and obvious error we've seen all season where we'll see an instance, recommended for review, and it's not an obvious error.
"I mean, what we've got to remember is that VAR should, it's there for the horror, the horror mistake, you know, when everyone says 'oh that's absolutely clear and obvious error', not for subjective decisions as we've seen this season. There's still a lot of training and education to be done in the English Premier League."
Has Saka been Arsenal's best player so far this season?
Yes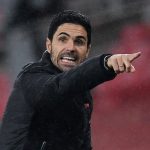 No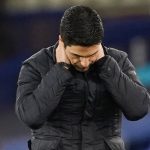 Arsenal can perhaps consider themselves a little bit lucky based on Halsey's interpretation. Because if something like this is left down to subjectivity then on another day another referee could have been inclined to check VAR and award a penalty.
There wasn't a whole lot of contact, but certainly enough for Vydra to feel he needed to go to ground over and could have put them in real trouble.