Leeds United fans have taken to Twitter to respond to a message from Raphinha via the official club Twitter account.
Raphinha has been linked with a move away from Leeds this summer, with Liverpool named as one of the clubs reportedly showing interest in the Brazilian.
The winger has made 21 appearances for the Yorkshire club in the Premier League this season having scored five goals and recorded five assists in those games.
"I'm really happy and so satisfied to be a part of this club. I thank everyone for their affection," Raphinha said in the message.
It is apparent from the video message Leeds fans are hoping their Brazilian winger will not leave the club this summer as they want to see him play live when fans can return to stadia.
"Wait till he experiences playing in front of a full and rowdy Elland road.
"Wait until the fans are back in the ground this lad will know what affection is then."
"ARE YOU WATCHING LIVERPOOL?"
"Get a new contract in front of him double-quick!"
"We've got some great lads at Leeds and a team to be proud of, but it's a long time since I've felt so excited by a player at our club. Long may he reign!"
"Desperate for him to experience a full Elland Road."
"Best player we've had at the club in the last 20 years!"
"I'm gonna cry"
"Music to my ears, no need to go to a club on the slide. Stop at one on the way up"
"That's the tweet we're all after"
Is Raphinha the best player at Leeds?
Yes
No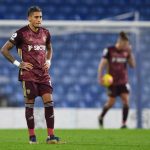 It is clear to see the affection the Leeds fans have developed for their Brazilian winger, however, the main concern for them seems to be making sure he is at the club next season so he can feel the love from the fans when they return to Elland Road.