Celtic fans have been reacting to news coming out surrounding forward Albian Ajeti.
The Swiss international could have found himself in a little bit of bother, as he found himself facing the prospect of a two-match ban as he was charged with diving in their recent 4-0 win against Kilmarnock.
The 23-year-old is currently the club's joint-third top goalscorer this season with six, and whilst that's well off the likes of Odsonne Edouard and Mohamed Elyounoussi who are both in double digits, he's still got some use to the team so his absence would have been felt.
However, there was a stroke of luck that came their way, as an SFA panel agreed that it could not be proven that he simulated in order to win a penalty, and therefore he won't be subject to any sort of action. Although when the news came through to them (via @ramanbhardwajTV), the focus seemed to be more laughing at the SFA for even allowing it to get that far:
"Not Proved? Not guilty more like? SFA yet again embarrassing themselves! Amateur hour!"
"You mean on account of it not being a dive."
"The right decision however he is now a marked man and will not be treated fairly in the future. Dare I suggest the whole point of the charge !!"
"That's because the accusation was false, they have to keep doing everything they can to stop THE MIGHTY BHOYS IN GREEN!!!!!!"
"A nonsense charge in the first place. Clear contact."
"There was contact on his heel. Should never have even went that far."
Has Ajeti been treated poorly by Celtic?
Yes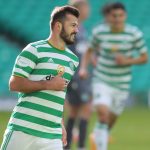 No