Former Premier League referee Mark Halsey say Celtic can consider themselves unlucky not to be given a penalty late on in their loss to Ross County on Sunday.
With the game winding down and the home side holding onto a 1-0 lead, a shot from Celtic's Callum McGregor fired into County's Keith Watson foot before ricocheting up and hitting him on the arm, but despite the appeals from Neil Lennon's men, referee David Munro waved play on.
And speaking exclusively to This Is Futbol, Halsey thinks that whilst he understood why the referee gave the decision he did, had he gone the other way and awarded a penalty, nobody would have argued:
"What we've got to look at was that deliberate act by the Ross county defender? Was that a deliberate act was that a deliberate movement of the arm towards a ball? Was his arm in an unnatural position? I think some will say yes, and some will say no. And the on-field referee hasn't given it, wherever his view was blocked, I think had it been given, I don't think there'd have been too many complaints. Because his arm was out, wasn't it?
"I mean, it all depends, you know, was it natural or unnatural? It's one of those, Celtic will feel they should have been given a penalty, Ross County will be over the moon that wasn't given, then that'd be the same for the fans of both sides. So I don't think there have been any complaints had it been given."
Was this a penalty in your eyes?
Yes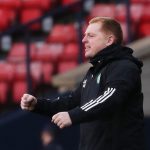 No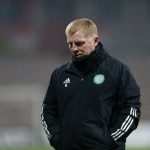 Whilst Celtic might feel aggrieved to have missed out on a penalty in this situation, they only really have themselves to blame for letting themselves get in that position to start with.
Getting away 20 shots and only getting 4 on target against a team battling relegation and then having to desperately make a penalty claim late on just isn't good enough for a team like Celtic and will only go to add more pressure on the shoulder of head coach Lennon.