Speaking recently on the Football Writers Podcast, Miguel Delaney discussed the current situation of Tottenham Hotspur manager, Jose Mourinho.
Following Tottenham's 2-1 loss against West Ham United last weekend, a result which condemned Spurs to their fifth league defeat in the space of six games, Mourinho was posed the question as to whether he is beginning to doubt his coaching methods, with the 58-year-old responding by stating that he has no such doubts, as well as his belief that his and his coaching staff's methods are "second to nobody in the world".
However, speaking on a recent episode of the Football Writers Podcast, Delaney claimed that the former Chelsea manager's remarks came across as desperate, before going on to offer a rather bleak prediction regarding the Portuguese manager's future in north London.
He said: "I saw that and it just struck me as desperation, to be honest. We are at the point now where we will be talking about Mourinho's future but, from what you hear – and you could also see it in the Amazon documentary – there's this sense that [Daniel] Levy is under his spell.
"Mourinho was the manager he always wanted to get. Then there's the giveaway line in the Spurs documentary where Levy was talking about the two best managers in the world, [when he said], 'One's already in the Premier League and one is Jose Mourinho'.
"Brilliant as Jose Mourinho once was – and he was, at one point, the best in the world, he will be an all-time great – I don't think anyone serious in football was realistically saying that Mourinho was one of the two best managers the world, or anywhere close to it, when Spurs appointed him in November 2019.
"The brutal reality is, what is happening now is pretty much what everyone predicted would happen with Spurs when making this appointment. The only issue is, it's probably even quicker than everyone expected, and Spurs have themselves to blame for that. I mean, it'd be impressive if Mourinho gets them out of this, I have to say, but it's difficult to see right now."
Is it time for Spurs to sack Mourinho?
Yes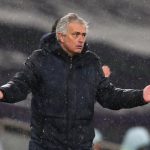 No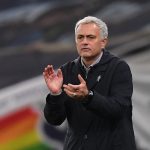 TIF Thoughts on Miguel Delaney's comments regarding Jose Mourinho…
If the Tottenham chairman, Daniel Levy, is indeed as infatuated with Mourinho as Delaney suggests, then it would appear unlikely that the 58-year-old's position as Tottenham manager is under serious threat at present, despite the club's recent diabolical run of form.
In addition to this, with Mourinho reported to be earning a whopping £15 million per year at Spurs, sacking him two and a half years prior to the end of his contract in north London would cost the club a tremendous amount of money, which is something that Levy will most likely be desperate to avoid.