Journalist Daniel Storey has recently talked about Jose Mourinho's post-match comments after Tottenham's defeat to West Ham.
Storey appeared as a guest on the latest episode of the Totally Football Show and the panel discussed multiple issues involving the recent Premier League weekend. Storey talked about Mourinho's comments about the Spurs side and his coaching staff after Tottenham's loss to West Ham. The journalist feels that the comments were almost like a 'resignation letter' and he criticised Mourinho for them.
After the 2-1 loss to the Hammers, Mourinho said that the Spurs side isn't performing as per their potential and the team has certain problems that he can't solve as a coach. He also said that his coaching staff is second to none.
Do you think Mourinho is refusing to take blame?
Yes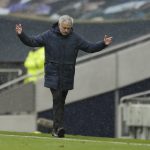 No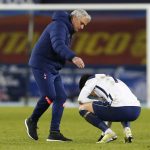 Storey talked about these comments, saying that Mourinho doesn't want to blame himself and he wouldn't be surprised if the Portuguese gets sacked in the next few weeks.
The journalist said (12:14): "I thought the most interesting thing was post match comments, because they to me felt like a resignation letter. He spoke to the BBC and he said, I feel we're not in a position in relation to our potential. And I think for a long, long time, that we have problems in this team and they're problems I cannot resolve by myself as a coach. And he was asked, you know, do you blame yourself? And he said, well, no, I'm the best coach in the world. And so why would I?
"And you kind of think, you know, this is a guy that came into Tottenham saying I love this squad. I tried to buy the players before. It's brilliant. I've changed, I've looked at myself, I knew I needed to change and and I mean, we suspected that was hogwash at the time and, and it's proven to be exactly that because you know how he can expect to be back to the tune of however many tens of millions of pounds in the transfer market he would like when he's getting nothing out of players.
"It's probably only Serge Aurier. I think that he's improved since he came to the club. Pierre-Emile Hojbjerg has done brilliantly since he joined but that aside, I don't think he's improved a player. So yes, I wouldn't be surprised if he was sacked in the next three or four weeks honestly."
TIF Thoughts on Mourinho's comments…
Even during his time at Manchester United, Mourinho was accused of blaming other factors for bad results. He also did that during his stint at Real Madrid (as per the Guardian). Already at Spurs, he has blamed the Spurs players for bad results.
While that might be a reflection of the fact that his time at Spurs might be going down a bad path, Tottenham are in the League Cup final and they're already in the Europa League. This suggests that they can still win silverware under Mourinho and there are still things that Spurs can look forward to under him.