Tottenham Hotspur fans on Twitter have been responding to the latest comments made by Lilywhites manager Jose Mourinho. 
This comes after the official Spurs Twitter account shared a post on their page that contained a video of Mourinho speaking to the club after falling to a 3-0 defeat against Manchester City in the Premier League.
During the video, Mourinho said that he saw some of his players at the limit of their condition and physicality and was even "scared" by the fact that some of them were still running and sprinting at the latter stages of the match.
The Spurs boss also said that he had a "very positive feeling" from seeing his players fight and work hard throughout the 3-0 defeat at the Etihad Stadium.
This post then gathered a lot of replies from the Lilywhites faithful, who were not shy in sharing their thoughts on what Mourinho had to say after this defeat.
So, what did these Spurs fans have to say in response to these comments from Mourinho after the Man City defeat?
"Did he watch the same game as me?" 
"Be a man for once in your career. Youve lost the dressing room, your tactics are ancient and dont work with this poor side. Do us all a favour and walk!" 
"I honestly don't think even he believes that nonsense at this point." 
"YOU ARE WASHED !!!! … even when players have played 120min 3 days ago vinicius still doesn't get a look in"
"Honestly? What game did he watch? What game has he been watching for the last six weeks? We are absolutely appalling! It's so abject that total apathy has set in across the entire Fanbase! #THFC"
"This is lies! There was no commitment, no togetherness, and no fight Jose." 
"GET OUT OF OUR CLUB, GET OUT OF OUR CLUUUUUUUB"
"Just leave."
"He's finished levy will wake up when it's too late"
"Its time to go"
"Get out of our beloved club !! Dinosaur"
Goals from Rodri and Ilkay Gundogan handed Spurs their latest defeat after being kicked out of the FA Cup after a 5-4 loss against Everton in midweek.
Do you think Mourinho is the right man to manage Spurs?
Yes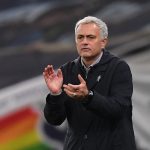 No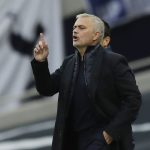 Looking at the replies to this post, it's clear that these Spurs fans are not happy with what Mourinho had to say after the game against the league leaders.
Given that Spurs have only won one of their previous six games across all competitions, it's understandable why these supporters aren't pleased with Mourinho or what he has to say at this moment in time.