Fans of Tottenham Hotspur have been reacting to a post on Twitter, which relayed a report regarding the contract of Spurs manager, Jose Mourinho.
According to David Ornstein's report for The Athletic, despite a run of poor results, there is 'no suggestion' that Daniel Levy and the Tottenham hierarchy are 'considering replacing' the Portuguese boss in the foreseeable future.
The journalist also claims that, according to his information, the contract the 58-year-old signed with Spurs back in November of 2019 does not include a break clause, meaning that Mourinho – who is reported to earn £15 million per year (£289k per week), ranking him 'among the highest-earning managers in world football' – would be 'entitled to a significant payout'.
And, after The Spurs Web shared this report on Twitter, fans of Tottenham flocked to have their say on the matter, with many appearing to be outraged at the thought of Mourinho remaining in charge of their club for the foreseeable future.
Are you Mourinho in or Mourinho out?
In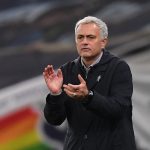 Out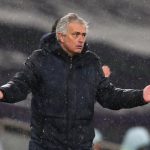 So, what exactly did these Tottenham Hostpur fans have to say in reaction to the report regarding Jose Mourinho's future?
"My love if football is already dying this might tip me over the edge."
"Pain."
"Nooooo he will kill us."
"Sake."
"Contracts need to be written better, he's being paid a lot of money to do a job and isn't really doing it. Yes, the players are partly to blame, but his tactics… He should be sackable without penalty if he doesn't hit certain criteria, eg silverware this season."
"Siiuuuuuuu we're gonna win the Championship."
"Never should have hired him."
"We heard all this with Poch but if you keep losing games he'll be gone."
All in all, it would appear that these Tottenham fans are not best pleased to read the news regarding Jose Mourinho's contract at Spurs, and, considering that their club currently occupy ninth place in the Premier League table, as well as the 58-year-old's style of football dubbed as being 'devoid of ambition and lacking in ideas', it is not hard to understand why.