Tottenham Hotspur fans have been reacting to the performance of Ben Davies during their game against Chelsea.
It was a game that held a lot of significance for both sides. Whilst the title might be more or less out of reach at this point, it would go a long way in helping to dictate what is likely to happen with the spaces for European competition next season. And having lost their last two games in the league, it was always going to be important the home side got some momentum back quickly.
But the performance of Davies at left-back didn't appear to help matters, at least according to the fans who were watching at home, as he was ripped apart on social media during the game:
"I swear Ben Davies pass accuracy is 0%"
"How on earth Ben Davies is in our squad, let alone starts is just pathetic."
"Spurs scouts need to explain where they got Ben Davies at."
"Ben Davies get in the bin"
"Ben Davies should be nowhere near this team……so out of his depth. Although some cover in front of him might help. Another completely inept performance so far"
Who is the better defender?
Ben Davies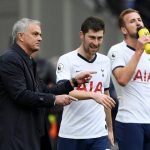 With Sergio Reguilón breathing down his neck when it comes to competition at left-back, Davies, valued at £15.75m on Transfermarkt, can't afford too many games like this in the near future, or his future might involve playing somewhere else.