TalkSPORT's Jason Cundy claims that the decision to send off Jan Bednarek against Manchester United was a harsh one.
It was a night where everything went wrong for Ralph Hasenhuttl's men, going down to ten men inside the first two minutes, but it was an even worse night for the Polish defender. He scored an own goal and was sent off for giving away a penalty late on in a rather controversial moment, with footage captured by BT Sport showing Bednarek claiming that even Anthony Martial – the man he was adjudged to have fouled – saying that it wasn't.
And speaking on the TalkSPORT Daily Podcast, Cundy claimed that even though he could see why the referee gave his initial decision the way he did, with the use of VAR available to him, it was strange that he didn't put himself in a position to change his decision:
"I understand why Mike Dean's given it. Martial thinks there's going to be contact, he's waiting for it, he's dragged his leg, there's no contact and he's gone down. From one angle, certainly what we looked at, I wonder whether he actually saw the whole incident. There's so many angles there you can look at [and] say 'it's no contact, it's a dive, no penalty, yellow card Martial, play on with the game.' That will get overturned."
Was Bednarek unlucky to be sent off here?
Yes
No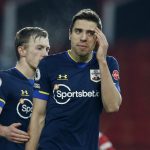 TIF Thoughts on Jason Cundy's comments about Jan Bednarek's incident with Anthony Martial…
Cundy is right to some extent – with the angles that were available, there might have been one that would have given referee Dean the chance to give Bednarek a reprieve. But at the end of the day, it comes back to the phrases 'clear and obvious' and 'enough to overturn'.
In a situation like this, Dean has to be 100% convinced in order to change his initial decision, and whilst one angle might be enough to convince otherwise, the other angles might still leave a little bit of doubt, and in that case, he is right to stick with his initial decision.