Former Premier League referee Mark Halsey has recently delivered his verdict about whether Aston Villa's Matty Cash should've been penalised for a handball in the recent game against Southampton.
Halsey was recently talking exclusively to This Is Futbol and the latest round of Premier League matches was the main talking point. One thing that Halsey was asked about is the referee's decision to not give Southampton a penalty even though the ball struck the hand of defender Matty Cash in the eighth minute of the tie.
Should Cash have been sent off?
Yes
No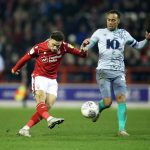 VAR did take a look at the incident for several minutes but it decided, in the end, to stick with the original decision.
When talking about this VAR decision, Halsey said: "Listen, handball, penalty – yes. Not so sure about the red card, because the goalkeeper's on the line. So we're not sure whether the goalkeeper would've saved it or not. Personally, if you look at that incident and if you remember, first [week] of the season – Liverpool v Leeds. [Robin] Koch, where it's a massive deflection off his thigh because his arm was up there – the PGMOL are saying that that is still a penalty. That will still be a penalty because his arm was in an unnatural position.
"Now Matty Cash moved his arm towards that ball, deliberately moved his arm towards that ball. So his arm was in an unnatural position because he was moving it towards the ball.
"I think that Matty Cash knew what he was doing.
"I was surprised that a penalty wasn't given. I'm surprised Lee Mason, the referee, didn't give it on-field because I think, had he given that, it wouldn't have been overturned.
"I don't think anybody would have complained had a penalty been given in that situation."
Cash stayed on the pitch and Southampton didn't get a penalty, as Ross Barkley scored a goal later in the game to make it 1-0 to Villa. As a result of that, Dean Smith's men won the game by the same scoreline (as per The Guardian).
This might be a reflection of the fact that the VAR call did help Villa, especially considering how Halsey feels that it should've been a penalty for Southampton. Even Ralph Hasenhuttl had criticism for the VAR call, as he mocked Cash's action as a 'good save' and he made it clear that the decision 'hurts' Southampton (as per The Guardian).
Considering that Halsey feels that it should've been a penalty, Hasenhuttl was right to criticise the decision after the game.