TalkSPORT host Adrian Durham has torn into Southampton boss Ralph Hasenhuttl around the apparent lack of criticism he's receiving.
The German guided the Saints to their second 9-0 defeat in the space of two seasons during their recent game against Manchester United. Much like the previous one against Leicester City last term, both involved his side going down to ten men, although the most recent one came even earlier in the game, whilst there was also a lot of controversy around Southampton going down to nine men late on at Old Trafford.
However, via the TalkSPORT Daily podcast, Durham claimed that the one person escaping blame for his role in the defeat was Hasenhuttl, and that he should be held more accountable for two egregious results in back-to-back seasons.
He said: "If Sam Allardyce or Steve Bruce had lost 9-0 in successive seasons, what would everybody be saying? They'd be talking about them being dinosaurs, how they should be sacked, how they shouldn't get top-flight jobs, they shouldn't get any jobs anymore. They keep getting on the roundabout of jobs and merry-go-round and getting jobs and they shouldn't be getting them.
"But Ralph Hasenhuttl loses 9-0 two seasons running and he's the hipster's favourite and 'it's not really his fault, it's the recruitment's fault', or 'it's VAR's fault'. You can't scrutinise Ralph Hasenhuttl, what, because he looks like Klopp? No, I'm sorry, you can scrutinise Ralph Hasenhuttl."
Will Hasenhuttl stay at Southampton till 2024?
He surely will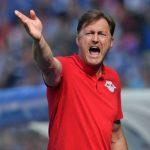 I don't think so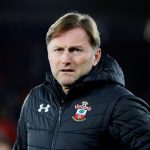 TIF Thoughts on Adrian Durham speaking about Ralph Hasenhuttl…
Durham might just be guilty of trying to start something that isn't there with these comments. Yes, losing 9-0 never looks good regardless of the circumstances, and there probably should be a little more blame put on the man in the dugout for not reacting well enough when the scoreline reaches 5-0 or 6-0 – and then to have not learned from the last time out does hint at a little bit of naivety.
But given the transformation that he has taken them through since that previous collapse against Leicester City, and even before that, having taken them on when they were in the relegation zone to a point where they were being tipped for Europe (Sky Sports, via Hampshire Live), they can be forgiven for the odd blip here and there. Once a season for a total collapse isn't really that big a deal in the grand scheme of things – if it were to be once a month, then you might start to consider it a problem.