Journalist John Gibson doesn't think that Newcastle United will get rid of Steve Bruce this weekend, even if the club lose their game against Wolverhampton Wanderers.
It is a pretty important game for Bruce's men, as they currently find themselves just three points above the relegation zone. Due to goal difference if they were to lose and Fulham were to pick up a victory away to Crystal Palace the next day, then they would find themselves in the relegation zone.
But even that, in the eyes of Gibson won't be enough to force owner Mike Ashley to pull the trigger and get rid of Bruce. Speaking on the Everything is Black and White podcast (1:39), Gibson felt that given Ashley's history, Bruce will still have time to save himself:
"He won't be sacked. We're not talking about whether he deserves to be sacked or not. He won't be sacked. Several reasons for it, one of the most being that that isn't the way Ashley operates.
"He's not going to sack Steve Bruce at this point in procedure. He doesn't like sacking managers.
"Will he, right at the death, do something if we're still hurtling downhill? That remains to be seen. Normally that's too late. But I don't think Steve Bruce is in danger of the sack this weekend. I think Steve Bruce at different club might be in danger of this. But not at this club"
Will Steve Bruce last the season at NUFC?
Yes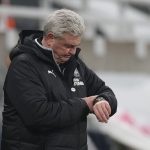 No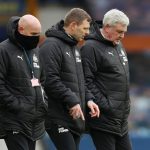 TIF Thoughts on John Gibson's comments about Steve Bruce's position at Newcastle United
Gibson brings up the point about Ashley acting too late when it comes to changing head coaches, something that other people have brought up when making comparisons to the last time Newcastle United were relegated back in 2015-16 as well as in 2008-09.
Perhaps it will be a case of third time lucky for Ashley and he will actually get the decision right over who will guide him through the end of the season. Whether or not that means a change though is yet to be seen.