Some Newcastle United fans have been left outraged by an image of Steve Bruce following their loss to Manchester United at Old Trafford.
It's a result that, combined with Fulham's victory over fellow strugglers Sheffield United over the weekend, means that Newcastle United are only three points away from the relegation zone in the Premier League.
But judging by the reaction of Bruce after the game (via @stevewraith), you wouldn't imagine that the club were in any danger at all as he was seen laughing with Red Devils boss Ole Gunnar Solskjær, although over what precisely it is unclear. It certainly is a weird response given the circumstances and not something you'd expect for someone who is under as much pressure as Bruce.
And it is something that has left the St James' Park faithful understandably outraged, and they let their feelings known on social media afterward:
"Can you honestly picture Kevin Keegan looking that happy after losing another game leaving the club in serious relegation fight?"
"This angered me more than the result! You shouldn't be smiling after a game that you have lost!"
"He don't care about the club … he's sending us down… shows no passion"
"Good to see you're smiling Steve. We're not. Now get out and don't come back."
"How dare he."
"Disgusting! Makes me so angry"
Does Steve Bruce deserve more time?
Yes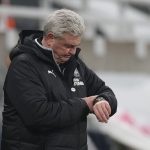 No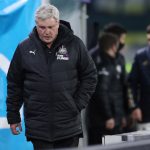 You'd imagine it's something that will be a talking point at the next press conference, where hopefully Bruce will get a chance to explain the situation.