Many Newcastle United fans have been slating the latest comments from Steve Bruce that recently emerged on Twitter.
Sky Sports journalist Keith Downie recently tweeted some comments that Bruce gave about the Premier League relegation battle. The Newcastle boss said that the clubs who are 13th and below are looking over their shoulders and thinking about whether Fulham can catch them in the battle to avoid the drop.
Should Bruce sound more upbeat about surviving relegation?
No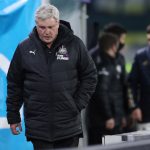 Yes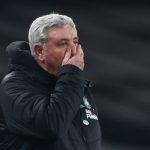 Bruce didn't give any concrete answer about whether Newcastle can survive, simply saying that they'll see where they end up at the end of the campaign.
Downie's tweet caught the attention of many Toon supporters, who were fuming at their club's manager.
What did NUFC fans make of Bruce's comments?
"His press conferences drain me. He has zero confidence and we all have zero confidence in him because of it. Can't wait for the season to end there's been nothing enjoyable about it at all."
Credit: @RyanOsborne9
"Worst thing you can do is look over your shoulder. Look straight ahead at where you can finish. Massive error of judgement in those words. Clearly hasn't read the room."
Credit: @Fantanafest73
"Where is the passion Steve? No fight. No desire. No leadership. You are the manager. You should be telling the fans how we are going to get out of this mess. Not making childish comments like "let's see where we are at the end of the season". What is your vision for the club???"
Credit: @NickArmo87
The Magpies are currently at the 17th position in the Premier League and Bruce's men are just six points ahead of 18th-placed Fulham in the table. Newcastle have a poorer goal difference than Fulham and they've lost seven of their last nine league games.
Fulham and Newcastle play in the last weekend of the season and their reverse fixture ended in a 1-1 draw.
"He's so negative, it's draining."
Credit: @ToonTalking
"Inspirational stuff here! How there are still people who back this bloke is beyond me."
Credit: @Chris_J_Dunn
"You're telling me that Southampton are worrying about relegation? That would be a massive drop in form — they need 2 wins to safety, I'd say. He's as clueless as usual…"
Credit: @CAJEG4
"An attitude like Bruce's will mean before the end of season we'll already know, by then though it'll be too late to get out of the bottom 3, terrible mentality from a Newcastle manager."
Credit: @IanStoz