Newcastle United fans have been left angry by some comments made by head coach Steve Bruce during his press conference ahead of their game with Wolves.
It is a very important game in Newcastle United's season, as a defeat at St James' Park could open up an opportunity for 18th placed Fulham to leapfrog them on Sunday and plunge them into the relegation zone.
However, one question in his press conference didn't focus on the game ahead, but rather one that they recently played. After their defeat Manchester United, Bruce was caught smiling (via @Stevewraith) with Red Devils boss Ole Gunnar Solskjaer, something that caused uproar in the immediate aftermath. When asked about the incident, Bruce claimed that he was smiling "because the Man United boss complimented him over Newcastle's performance."
An answer that didn't do much to ease the tension with the supporters as they doubled down their anger towards the head coach, deeming it not acceptable given the circumstances, and that he was simply trying to lie his way out of trouble:
"Another lie from our leader"
"Every time he opens his mouth it makes you cringe. Has no idea"
"I'd be complimenting him too "Thanks for the easy rollover, 3rd game in 9 days. Takes its toll on the lads." Compliment or not, he shouldn't be smiling. Read the room Steve."
"The man has lost the plot"
"Why does he lie? All the time! And just expect people to support him blindly? It's actually ridiculous. Act late. Seal your fate."
"If you are going to lie, at least make it believable."
"Never known a failure to receive so much praise and backing, it's unbelievable"
Will Steve Bruce last the season at NUFC?
Yes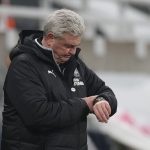 No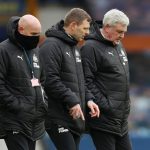 At least now he can consider it something of a warning to make sure he doesn't make a similar mistake further down the line.