Newcastle United fans have been reacting to comments by journalist Lee Ryder about the club's usage of Andy Carroll.
The 32-year-old has been used incredibly sparingly this season, starting just four games in the Premier League and playing less than 600 minutes in total. More likely than not, a part of that probably comes down to his problem with injuries throughout his career, so he has to be managed incredibly delicately.
But speaking on the latest edition of the Everything is Black and White podcast, Ryder claimed that he needs to be on the pitch more often, with the Chronicle's Twitter feed quoting him as saying "They're in a fight, they need fighters on the pitch like him. While he's fit, I'd have him on the field".
Strong words indeed from Ryder, but the Newcastle fans on social media didn't seem totally convinced by the sentiment, with some questioning his ability, whilst others felt that his physical play might not be the best thing to call on right now:
"Not mobile enough to press defenders. Rarely wins the ball cleanly – fouls go against him 9/10 (rightly) We don't play in a way that suits him. Very few teams do. Misplaced sentimentality from fans and a cheap gamble that hasn't worked."
"Refs just wait for him to come on and as soon as he puts a foot in or jumps, they give a foul but he does bully some defenders which we need at the moment"
"How is Andy carroll a presence in both boxes when he hasnt scored a goal in open play yet? Hes missed quite a few chances too. Both gayle and joe are a better option, id even take fraser over him."
"Rather play me Mother Carol"
"Oh we're so doomed"
"Oh yeah he misses clear cut chances he's not going to do anything! Gayle, joelinton, Carroll are all useless."
Do you think Andy Carroll can have a positive influence in the remainder of this campaign?
Yes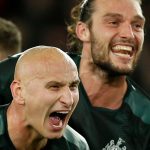 No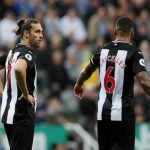 Given where Newcastle are in the table, you could argue that what they've been doing so far this season hasn't worked, so at this stage of the season, they might as well give anything a go.