Many Newcastle United fans have been discussing a news update about Steve Bruce that recently emerged on social media.
The Chronicle recently relayed an update about the situation of Steve Bruce, saying that the Magpies owner Mike Ashley is set to stick by the manager despite their poor form in recent weeks.
The report states that Ashley is currently out of the country and he is aware of the fact that would have to fork out a seven figure sum to pay off the current Magpies boss. That is one reason why he is reluctant to make a change at the club now.
Will Steve Bruce last the season at NUFC?
Yes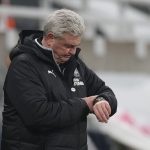 No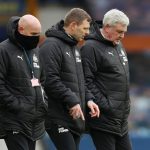 The news about Bruce was relayed on Twitter by the Chronicle's official account. Many Toon fans made their views clear about the club's manager.
What did Newcastle fans make of the news about Bruce?
"Whey, we'll lose a hell of a lot more if and when we go down. So much for a successful businessman, eh?"
Credit: @halliday_9
"Makes no sense why he's risking losing £150M at a minimum when he is actually good at making money."
Credit: @tomtoon2010
"Why? Bruce was given more than £100m to spend and we're in 17th place. Totally incompetent at the job… or maybe completely competent if we stay in 17th after game 38."
Credit: @PMalfurious
The report from the Chronicle claims that Bruce currently has the sympathy of managing director Lee Charnley and Ashley's close aide Justin Barnes because of the club's problems surrounding injuries and the virus.
It goes on to state that if the Magpies drop into the bottom three this weekend, Ashley could well make the decision to sack him and it will test his loyalty to Bruce.
"How did such a supposedly astute businessman gift a contract to someone who held no cards at the time with such favouable terms? Just don't get that."
Credit: @Von_Bronson
"The price of incompetence."
Credit: @JamesRh39624947
"How much will he part with if we are relegated tho! Thought he was supposed to be a smart business man!"
Credit: @bobobilton
"This is why it's absolute lunacy that our current owner is fine, but the #NUFCTakeover bidders just couldn't pass the "tests" as far as the @premierleague are concerned. Mike Ashley is killing us and we can't do a thing about it!"
Credit: @DanMcmahonf1
"If it means survival then its worth it, this club is a joke"
Credit: @KyleMF1