Former Premier League referee Mark Halsey has recently given his opinion about whether Callum Wilson could've been sent off in Newcastle United's recent win over Everton.
Halsey was recently exclusively talking to This Is Futbol and spoke about the weekend's action in the Premier League. One talking point of the discussion was a flashpoint involving Wilson and Mina in the game involving the Toffees and the Magpies.
Both the players were involved in a coming together in the first half and Mina had gone down holding his face. VAR had checked the incident but deemed that there was nothing wrong, with Mina continuing to play after treatment (as per Daily Mail).
Was VAR right in the Wilson call?
Yes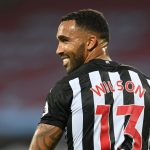 No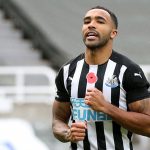 When talking about this incident, Halsey told This Is Futbol: "We've seen players sent off for a lot less this season and I think VAR looked at it, and obviously, they didn't feel it was an act of violent conduct – possibly a reckless use of the arm, which is a cautionable offence but obviously VAR don't get involved with cautionable offences. But you do run the risk, players do run the risk when they raise their arms in that situation.
"Listen, I think it all depends [on] who's sitting in the VAR chair and how high their tolerance level is. Then you have to question, was it an act of violent conduct? Was it a reckless use of the arm? The ball wasn't in play, was it? In that situation, when those instances happen and the ball's in play, then it's not only [about] is it a caution or red card, it becomes a matter then, is it a penalty?"
The game at Goodison Park ended 2-0 in the Magpies' favour, as Wilson himself picked up a brace in the outing. The Englishman also got a rating of 8.72/10 in the game, which was more than any other Newcastle or Everton player (as per WhoScored).
This shows the impact that he had on the game and incidentally, both goals came after VAR had decided to not take any action against the English striker, so it could be argued that the outcome of the game hinged on the decision in question – though it seems Halsey didn't have too many qualms over the eventual call from the officials.
Wilson has already directly contributed to 14 goals in the Premier League this season and it shows his importance to the Magpies.