Liam Kennedy has been speaking on the latest edition of #NUFC Matters with Steve Wraith about all things relating to Newcastle United.
One of the topics that Kennedy spent some time on was fans' potential return for the Toon's last home game of the season against Sheffield United.
The government have outlined their roadmap for the end of lockdown, and one step is set to include the return of fans.
On May the 17th large outdoor stadiums will be allowed to host either 10,000 fans or 25% of their capacity, whichever is lower.
As it stands, that would mean that Fulham would be backed by a crowd of around 5,000 for what could be a crucial final day of the season clash against the Toon.
However, Kennedy has heard that Newcastle's game against the Blades could be moved to ensure that 10,000 will be allowed into St James' Park to watch the Toon.
He said: (22:06) "I've heard rumours about the Sheffield United game getting switched, so it actually goes over the deadline for the changes in the lockdown roadmap.
"So, the Sheffield United game could have a crowd; there could be 10,000 people at Newcastle United against Sheffield United, which is the second-last game of the season.
"Were that to be the case, then I think you could probably argue that you wouldn't have too many complaints as long as Newcastle had a home game with a home crowd.
"I think that would be more of a fair trade-off."
Do you think fans will be allowed to watch the Toon play Sheffield United?
No, I doubt it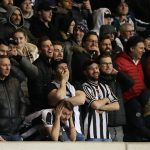 Yes, hopefully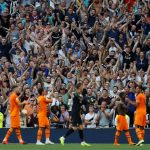 TIF Thoughts on the potential return of crowds to St James' Park…
Newcastle were not one of the lucky clubs earlier in the season who were allowed a small crowd in to watch them, so they have been without a crowd for nearly a year now with the Toon's 0-0 draw with Burnley the last match they played at home with a crowd.
It would be great if for that match against the Blades Newcastle were allowed a small number of fans in to watch the game.
However, the Premier League have still not decided if any fans will be allowed into any games this season, so in the end, the Toon could be denied the chance to have fans by the league.
It will be interesting to see how the situation develops in the comings weeks, but we hope that Newcastle will be allowed to have a crowd against the Blades.