Newcastle United fans on Twitter have been responding to the latest social media post from Toon journalist Luke Edwards. 
This comes after Edwards recently shared a post on his official Twitter page on the possibility of the Tyneside club sacking current manager Steve Bruce and what their next step could be afterwards.
He said that the current league table will "focus minds" at the club, or at least should do. He added that they "have their reason to sack Bruce" if that is the route they want to go down.
Edwards then posed the question of who the club would want to come in to replace Bruce but also that the club will see that Newcastle have won two of their four previous league games and still believe that he can keep the club in the top-flight this season.
This post then gathered a lot of replies from Toon fans who were quick to have their say on the situation.
So, what did these Newcastle fans have to say in response to Edwards' post about Bruce?
"How will he keep us up luke he is our worst ever manager. Awful. He has regressed us from a mid table side (10th & 13th respectively)spent alot of money and has us 3 points above the drop with worse goal difference with 12/13 left to play? Ant other club he WOULD have been sacked"
"Don't think bruce will be that bothered if we stay up or go down just wants his pay cheque"
"They also thought this about mcclaren. That ended well. Steve Bruce's managerial record suggests his chance of keeping us up is 50/50 at best. Would you take that £300m gamble? Act now while there is still time" 
"This has been coming since way before Xmas. The fact we aren't already in the relegation zone is down to other poor teams not Bruces skill. Performances improved before Chelsea however it was shocking how quickly we resorted to our old habit of not looking like we have any clue."
"They'll look and see 2 wins in the last 4, but conveniently ignore the fact that it's also 2 wins in the last 13.. very possible that those 2 wins are just a flash in the pan, indicative of the short sightedness this regime have shown for 14 years."
"He has been an absolute failure this season and you can't spin it any other way."
"Haway Luke this is a joke this man mclaren 2.0 we should be way above this situation and you know it"
"Just admit your mate is a fraud and we have been right all along."
"It has been obvious which way we were heading for months. Club have had ample opportunity to rectify it. Criminal that they have stood by and watched the demise. Who could come in? Anybody would be better than this clown"
"Because they are incompetent and he is delusional"
Looking at the replies to this post from Edwards' it appears that these Newcastle fans think Bruce should be sacked, regardless of how the owners at St. James' Park may see the situation.
Are you confident Steve Bruce can avoid relegation with this Newcastle team?
Yes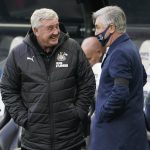 No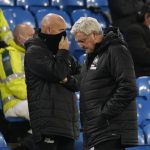 While Newcastle have won two out of their four previous league games as Edwards said in his post, he failed to mention the fact that they have only won two out of their previous 12 league fixtures before their clash against Manchester United.
Given Newcastle's results so far this season under Bruce, it's understandable, in our view, why these Toon fans have had enough of the 60-year-old and think he should have been sacked by now.