Former Premier League referee Mark Halsey believes that Liverpool were right to have a goal chalked off during their win over Tottenham Hotspur.
Mohamed Salah had appeared to put Liverpool 3-1 up, but the play was brought back after Roberto Firmino was adjudged to have handled the ball during a tussle with Eric Dier in the buildup to the goal, with Martin Atkinson having been recommended to check the monitor by the VAR official, Craig Pawson.
And speaking exclusively to This Is Futbol, Halsey thinks that it was the right decision because he felt the act by Firmino in the build-up was 'deliberate'.
He said: "I think on that situation with Firmino, I think it's a deliberate act, because he deliberately moves his arm towards the ball then that controls the ball and he lays it off.
"I think had that been an accidental handball, then the goal wouldn't have been disallowed, VAR wouldn't have got involved. Because VAR thought that was a clear error from the match referee not spotting a deliberate handball by Firmino, then I think that the goal would have stood. But because it was deliberate, I think that's why the VAR recommended a review to Martin Atkinson.
"People may say it's harsh, but I think at the end of the day, I think the right outcome was [reached]."
Do you think this was a deliberate handball by Firmino?
Yes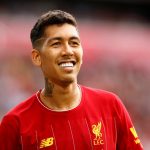 No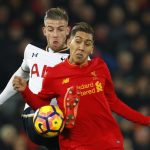 Halsey may be right here in the way the referees dealt with the protocol, but at the same time it is also harsh to be able to judge whether or not an act was 'deliberate'.
Especially when Firmino is being held by Dier in that situation, there's only so much control of where he can put his hands, so it can be a bit cruel for the officials, whether it be the VAR officials or the one on the pitch to be able to judge intent during a moment like that.
At the end of the day, with Liverpool still running out 3-1 winners, it didn't make too much of a difference, but it is something that could have come back to bite them.