Plenty of Celtic fans have been reacting to an article posted online about club chairman Ian Bankier and Peter Lawwell on the current state of the club.
In a recent column on his blog, journalist Phil MacGiollaBhain has compared the current state that Celtic are in now to one that they were in back in the 1990s when Rangers were going through their very own nine-in-a-row dominance of Scottish football, with a particular emphasis on the role Bankier played at the time in helping Rangers out. He also claimed that an un-named manager has slammed the club's structure, as well as aiming a shot towards Celtic's CEO Peter Lawwell.
Back then it was more of a financial issue, whereas now he puts the problem down to structural problems within the club, but he believes that the comparisons are there about just how the running of the club has put them so far behind Steven Gerrard's men, even going so far as saying "I am aware of a highly regarded manager who recently, via his representatives, let it be known the club's current structure was unprofessional and unacceptable"
"By that, the prospective manager (I know his identity) stated that he wasn't willing to work with a CEO who was effectively the unofficial, and crucially, unqualified director of football."
And Celtic fans used the article as something of a rallying cry to protest and send messages of anger towards the hierarchy at the club:
"They're turning a unique club with a unique history and global fan base because of that history – into no more than a brand, with us as the clients to be used. Sickening."
"Pariochial approach has cost Celtic – a small-minded businessman out thought by a team who had nothing to lose"
"Thats bankier done at celtic now"
Celtic fans: Are you happy with Lawwell's running of the club?
He cares about money only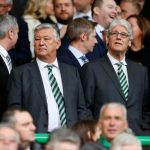 He deserves respect
We've
seen how bad things
can get when it comes to Celtic fans and their feelings towards the club, and you do wonder what could happen in the future if problems like these aren't fixed soon.
And, it appears as if Bankier isn't the only one coming under fire as MacGiollaBhain makes a big claim that an un-named manager has also taken a disliking to Celtic's CEO, which we can only presume is Peter Lawwell.