Celtic midfielder Callum McGregor's performance against Hibs didn't do much to endear himself to the fans.
Neil Lennon's men aren't exactly in the best of shape right now, sitting well behind rivals Rangers in the league title race, and coming under heavy scrutiny for their recent trip to Dubai with has left as many of thirteen of them unable to compete, you'd think that those who were picked would need to put in a good show.
That wasn't the case for McGregor though. Somewhat off the pace creatively compared to what he's been in previous seasons in terms of goals and assists, this was a great chance for him to try and put things right. Sadly though, his efforts could only earn him plenty of criticism from the supporters watching at home:
"Have you ever seen a bigger regression in a player like the one in Callum McGregor"
"Callum McGregor
isnt half the player hes has been over the past few seasons.. bad management has ruined him!!"
"The regression in
Callum mcgregor
this season is hard to watch"
"That's a heavy armband for
Callum McGregor"
"Senior players like
McGregor
and Duffy need to step up"
"Don't think any player has regressed so far since Rodgers than
McGregor
."
"Don't pass to Callum McGregor!! He's playing against us i swear on my mother's life"
Is McGregor a future Celtic captain?
Absolutely!
No, he's not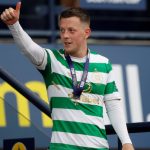 A tough season so far, and hopefully he'll be able to put tonight's game behind him and kick on through the rest of the campaign.