Speaking recently on the BBC Football Daily podcast, Luke Edwards claimed that Wolverhampton Wanderers manager, Nuno Espirito Santo, should be under pressure due to the club's poor performances so far this season.
Since taking over as manager of Wolves back in May of 2017, Espirito Santo has overseen a dramatic transformation of a side who had finished in 15th place in the 2017/18 Championship season.
The former FC Porto manager led Wolves to the second tier title in his first season in charge, before securing back-to-back seventh-placed finishes in the Premier League in the club's first two seasons back in the top flight of English football, as well as reaching the quarter-finals of last season's Europa League, in which his side narrowly lost out to eventual winners Sevilla.
However, so far this season, Wolves have struggled to replicate their impressive form of the past two years, with the 46-year-old's side currently occupying 14th place in the Premier League table, having won six, drawn four and lost nine of their 19 league fixtures this term.
And Edwards, speaking on a recent episode of the Football Daily podcast, claimed that the Portuguese boss should be under pressure for his side's poor results this season.
He said (39:11): "When you look at the managers who've been under pressure, Frank Lampard [and] Steve Bruce are the two,  Nuno seems to have escaped any sort of questions about his future. But when you look at the league table, Wolves are only three points above Newcastle [United] who've played two games less. So, it's been a bad season.
"I always felt it was risky, what they were doing. When you try and change the style of a team from being a counter-attacking [team], which has served them really well and they've done wonderfully well since they came up, to try and change your style of play to be a more expansive style, in the same season that you lost two of your best players, that was a huge risk to take and I think what we're seeing is the after-effects of that.
"You can't see them going down, but are they going to be happy with the way things are going under Nuno this season? No, they're not. The team have gone backwards, we can all see that. So, as soon as you start doing that as a manager, you are going to be under pressure, the results aren't good enough. And, you know, if managers like Frank Lampard and Steve Bruce are under pressure, then Nuno should be under pressure as well because it's not good enough."
Does Nuno deserve to be under pressure?
Yes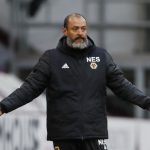 No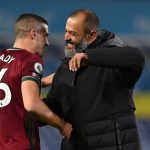 TIF Thoughts on Luke Edwards' comments regarding Nuno Espirito Santo…
While it is indeed true that Wolves' results have not, so far, matched those they achieved in the previous two Premier League seasons, in our opinion, Espirito Santo has done more than enough during his time at Molineux to make him immune from pressure, at least for now.
As Edwards states, the 46-year-old has lost Raul Jimenez to long-term injury and Diogo Jota to Liverpool, the club's top two Premier League goalscorers last season, something which is bound to have a negative impact on Wolves' league performance.
In addition to this, despite their current lowly league position, Wolves are still 11 points above the relegation zone, which would appear to indicate that they are in no immediate danger of going down.
As such, in our opinion, Espirito Santo should be afforded the time to turn the club's fortunes around, rather than being subjected to pressure in his position.