TalkSPORT's Alex Crook believes that West Ham United could put themselves in a position to bring Marko Arnautovic back to the club.
The club are set to be in the market following the sale of Sebastien Haller to Ajax, with players like Joshua King already being linked to replace the Ivorian.
However, speaking on talkSPORT's Gameday Football Podcast, Crook thinks that the club could go back in for the 31-year-old Austrian, even if his time at the London Stadium first time didn't end on the best of terms:
"When you consider that the package they paid for Haller was £45m, maybe that shows just how desperate David Moyes, in particular, is to get him off the wage bill and bring in a striker that he actually wants at the club – someone like Joshua King, or maybe even Marko Arnautovic I know there is a desire from David Moyes to bring him back to the club. He wants to leave China, whether David Gold and David Sullivan would stomach that, given the manner of his departure, is open to debate."
Would you be open to Marko Arnautovic returning to West Ham?
No, I wouldn't want him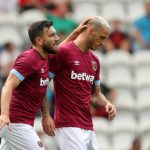 Yes, I'd like him back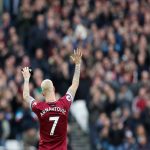 TIF Thoughts on Crook's Arnautovic update…
Crook's comments do paint a bit of an interesting picture at the London Stadium. Who would have more control in that scenario – the head coach that wants the player desperately to fill a hole in the team, or the owners who had to put up with it all last time?
Crook later said in his report that the fans he's spoken to seem to be on board with the idea, which he said was a surprise given the anger that surrounded his departure back in 2019, but perhaps they've forgiven and are willing to forget on this occasion.
Although whether or not he's the best option to go with is a different matter. If you take a look at their goal records in the division, King just about edges out Arnautovic in terms of their return so far. And King has age on his side being just over two years younger.
So if they can't get King, then he would certainly be a decent alternative, but to make him the priority might be a bit misguided.