Tottenham Hotspur fans have been reacting to news surrounding Dele Alli's possible departure this window.
Alli has been a target for the French side for some time, and the appointment of former Spurs boss Mauricio Pochettino has only made talks of his move pick up pace and seem more and more likely. However, it has been far from a smooth process, and it could be about to get a little trickier.
According to RMC Sport (via @TheSpursWeb), Tottenham Hotspur will allow Alli to leave in this window, but only if the club can secure a replacement beforehand. Now whether or not it will be someone like Christian Eriksen, who has also been linked with a move to North London this window, or a different player entirely, we'll just have to wait and see.
But Spurs fans weren't too happy to see this news come through, with some sad at the idea of him leaving whilst others felt it would be a disaster to be letting him go at all. Others meanwhile foresaw a different problem altogether when it came to getting the potential move done:
"Big mistake letting him go"
"Wrong decision. Class player. End of."
"Sad to see him@go he's a greT player young talent that the club should keep a hold of"
"Not going to happen with our home grown issue we would still need to move on another foreign player to replace Alli"
"Would only make sense if we had another English player to replace him. No way we getting Grealish or Maddison so who else? Lingard ? Cantwell?"
"If this club let dele leave before Gedson, Lamela, Lucas, Winks etc, we are finished"
"so which english AM are we getting cos we aint getting any foreigners"
"So who now. This is the end of an era. Would love it to be a loan deal but fingers are pointing to a transfer. Sabitzer please and let's make it happen."
Do you think Dele Alli will leave Spurs in the current transfer window?
No, he'll be staying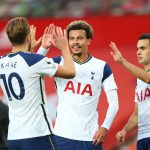 Yes, he's be going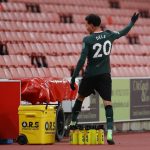 Either way, with the window set to close next Monday, time is slowly ticking away for the sides to come to an agreement, if indeed they will at all.