Journalist Martin Lipton has recently given his verdict about Harry Kane's future at Tottenham Hotspur.
Lipton appeared as a guest on the latest episode of the OTB Football podcast and the panel discussed multiple issues involving Spurs. One topic of discussion was Kane's future at Tottenham and whether Spurs could sell him to Manchester United in the future. Lipton believes that Daniel Levy wouldn't sell the forward to an English club and would prefer selling him to a club abroad.
Will Levy ever allow Kane to leave Spurs?
Yes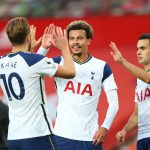 No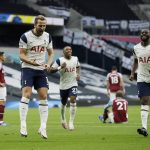 Kane has been linked with a move to Old Trafford in the past and it has been stated that during Louis van Gaal's tenure at Man Utd, the Red Devils did enquire about the Englishman. It was reported in March last year that Kane would consider a move to Man Utd and he wouldn't consider signing a new contract at Spurs.
Lipton though, believes that Daniel Levy hasn't forgiven United for signing Dimitar Berbatov and Michael Carrick and he wouldn't sell Kane to them.
He said: "He's never forgiven them for Berbatov and Carrick etc. As long as Spurs are going in the right direction, if they win trophies – and that includes cups – Harry Kane will not leave the club. He wants to finish his top-flight career at Tottenham. If Spurs came eighth this season and were already out of the League Cup and knocked out in the fifth round of the FA Cup and got knocked out by the Austrians in the last 32, yeah – fair enough, he'd look to go. And Spurs would sell him abroad, they wouldn't sell him to a domestic team. But I don't think that's going to happen.
"They're already in one final, they've got a real shout at being in the top four. I'm not dismissing the chance of them sneaking it, I don't think they will. They've still got the FA Cup, they've still got the Europa League, which is a place in the Champions League if they win that, and they're in a really good position to win that. They'll clearly be moving in the right direction.
"If they can win a trophy [to get] 'you don't win trophies' thing [off their back], which has been a massive issue for Tottenham fans – less so for the club, because they just want to keep going in the right direction commercially – there's no way that they would sell Harry Kane to another English club."
TIF Thoughts on Lipton's comments on Kane…
In the current Premier League season, Kane has contributed to 22 goals. He has 11 goals and 11 assists already and it shows how important a player he is for Spurs. He is the highest goal contributor in the division in the current campaign (as per WhoScored).
Because of that, Spurs fans wouldn't want Kane to come up with similar figures for a Premier League rival as it could hurt their chances indirectly. They may not like it if Kane moves on to another English club and wins a Premier League title with them. So because of that, the Lilywhites shouldn't sell Kane to Manchester United.