Supporters of Tottenham Hotspur have recently reacted to some comments on Brazilian striker Carlos Vinicius that were made by Harry Redknapp.
Back in October, Jose Mourinho's side sealed the arrival of the 25-year-old forward from Benfica on a season-long loan with an option to purchase him (as per BBC).
According to the Portuguese club, that option to make the striker a permanent addition stands at €45m (£40.83m).
During a recent interview with Stadium Astro, as cited by the Daily Express, the former Tottenham manager, Redknapp, discussed the Brazilian forward.
He said: "They tell me the Brazilian boy is a fantastic player, the centre-forward.
"People at the club tell me, was he the leading goalscorer last year in Portugal? From Benfica, and people tell me he's a top, top player.
"Maybe it's a chance to play him now."
These comments were relayed to Tottenham fans on Twitter by The Spurs Express and they had lots of supporters talking.
So, what did these Tottenham fans have to say about Harry Redknapp's claim on Carlos Vinicius?
"Like why did we even bring him in if he ain't gonna play even when kane is injured"
Credit: @shalaby_bido
"No brainer that's what we bought him for"
Credit: @guernseyboy1
"Let's see what he's made of now Kane is out. That's if Jose plays him. Haven't seen anything to convince me"
Credit: @Jon1Labi
The chance to play him which Redknapp is referring to is the ankle injury to Harry Kane, who the Mirror claim could be absent for up to two months.
Should Carlos Vinicius be given a run of games in Harry Kane's absence?
No, he's not that good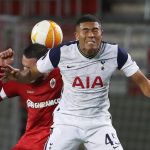 Yes, he's got potential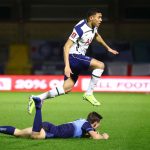 "He deserves his chance let's see what he's got"
Credit: @adamsproule1
"Give him a run of games, he'll turn up i believe in him"
Credit: @Manu23588
So far this season, the 25-year-old attacker has made just four substitute appearances in the Premier League, in which he has neither scored nor assisted a goal (per WhoScored).
His performances have been weak, too, as he has earned a 6.18/10 average rating, making him the second-worst performer in the squad, with only Dele Alli having performed worse.
"Throw him in there so we can properly evaluate the player."
Credit: @Geroge_Russell8
"Let's give him a run then ! I wasn't impressed with him at Wycombe but neither was I with son up top during that 2nd half against Liverpool. Vinicius deserve his chance at Brighton."
Credit: @CharlieLloydT
"If he doesn't start tomorrow then the agendas on who actually has final say on signings will resurface. He has to start. He has to be given the next 3 games at least!"
Credit: @stevehudson84
As can be seen in these responses from Tottenham fans, they were keen to see Jose Mourinho unleash Vinicius following Harry Redknapp's comments.