Journalist Dean Jones believes that it's inevitable Dele Alli will be sold by Tottenham during this transfer window because Daniel Levy won't want to lose more money on him.
Alli has been the centre of a rather intriguing transfer story these past few months, after reports came out that Paris Saint-Germain were interested in him – news that ramped up upon the appointment of former Spurs boss Mauricio Pochettino by the French side.
Having been valued at as much as £100m by the club a few years ago, (The Times, via The Daily Star) his worth has plummeted in recent years, to the point where Transfermarkt values him at £34.2m right now.
And that is why Jones, speaking on the latest edition of Touchline Talk, thinks that Spurs chairman Levy will want to jettison him as soon as possible:
"I think that it's probably going to have to happen, because you can't keep Dele Alli if Jose Mourinho has got no plans for him.
"He can easily become a key player in the team, it's just not going to be under Jose Mourinho, by the look of it. It's going to be very painful for Daniel Levy to see Dele Alli go out on loan and thrive under Mauricio Pochettino, but the alternative is he sits and rots and loses more value at Tottenham."
Would you be surprised if Spurs let Alli leave in January?
Yes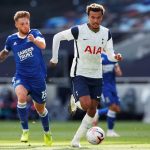 No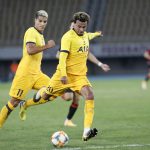 TIF Thoughts as Jones hints at a potential Spurs exit for Dele Alli…
Jones' words are easily backed up by the fact that Alli has been used so sparingly this season, so barring something disastrous like a flood of injuries, you would imagine he's not going to get a regular run in the team.
That may suggest the only other option is to get rid of Jose Mourinho, which probably isn't going to be happening any time soon with Spurs going well in the league with a cup final on the horizon – so Alli may have to go. And whilst Levy is known for being a tough negotiator and always getting 'what's best' for Tottenham, if he really wants what is best, then he is going to have to do something to stop Alli's value dropping further.
If that means selling him now, or loaning him out to sell in the summer, time is running out for Levy to get the best deal for the club.