A lot of Newcastle United fans have flocked to a post from their club that contains comments from Steve Bruce ahead of the Toon's clash with Sheffield United in the Premier League.
Newcastle head to Bramall Lane in poor form, having failed to win any of their last seven games in all competitions, but the Blades have had an awful season and sit rock bottom of the league with a pitiful two points.
However, Bruce claimed that they are a 'very good side' and that the Toon will have to be at 'their best' to win.
This has drawn in these Newcastle fans who are fuming with these comments.
"There we go with the negative, defeatist mindset again. The bloke must be the most depressing manager on the planet. Telling us how good a team with 2 points from 17 matches are man."
"As has been most of the season you cannot believe the drivel here… They haven't won a single league game all year and yet here we are, as we have been all season with our manager talking up the opposition. This should be a clear cut "we're expected to win and we will"…"
"They're a very good side'. Does he genuinely believe the rubbish he comes out with? Their first win since July(!) came against a League 1 club. No way we're winning tomorrow with this sort of defeatist nonsense coming out the day before. God knows what the players think…"
Can you believe Bruce said this?
No, he says it every single time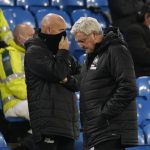 Yes, surely he should be a bit more confident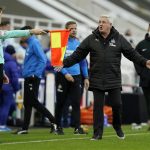 The Blades had a brilliant season last year and finished in ninth place, but they have already lost 15 league games this season and have scored just eight goals.
So, if the Toon turn up and do the job, then you would think they should win, but Bruce is making the Blades sound like an in-form team when they are anything but, so we can see why these Toon fans are so angry at these comments.
"I am absolutely staggered by this mind. This bloke would he having to get escorted oot if fans could get in."
"They've won 2 points all season. Does that mean to be at best Bruce indirectly puts us at the second worst side in the league? All jokes aside if we lose he has to go as that would be 8 without a win and a nightmare run of games to come"
"Talking up a team with 2 points. If I was a player under you I'd feel like we've already lost. Absolutely unbelievable man!!!!!"
Newcastle are currently eight points clear of the relegation zone, but you would think that if they failed to win this match, they could get dragged into a relegation battle if results don't go their way.
You would also think that there would be some serious questions asked by an already clearly unhappy fanbase.