Jay Motty, who is a contributor to Manchester United fan YouTube channel Stretford Paddock, appeared on a recent edition of the Football Social Daily podcast where he spent some time talking about Leeds United manager Marcelo Bielsa. 
Bielsa and Leeds have been somewhat polarising this season following their promotion from the Championship to the Premier League. 
The Argentinian coach's preferred style of play has been a hot topic of discussion amongst pundits, with some, such as Gary Neville and Roy Keane, heaping praise on the Whites and their manager for their approach to the game, and others, such as Paul Merson, airing criticism for the 65-year-old and his team. 
Though they suffered a 3-0 loss to Tottenham Hotspur in their latest Premier League game, the Whites have enjoyed a much better first half of the season than West Bromwich Albion and Fulham, who were promoted to the top flight with them for the 2020/21 campaign. However, on this podcast, Motty was critical of the Leeds manager, indicating that he feels the praise he's been receiving has been somewhat over the top and sharing that he rates Manchester United manager Ole Gunnar Solskjaer over him. 
He said: "I don't know if he's one of the best coaches in football… I think he's overhyped a little bit because he's done well and he's had a good record at clubs but he hasn't won lots of trophies, he's been around for, what is it? Four decades? Yes, he plays good football but I think, sometimes, people get a little bit carried away. 
"He was up for coach of the year, wasn't he? For winning the Championship. Which, I think, if we're being brutally honest, is a little bit of a nonsense. 
"I think he's a worse coach than Ole Gunnar Solskjaer – I think he's obviously got more experience than Ole has, he's done well at Leeds, with Bilbao, we know what he did to Manchester United when he played us, but he's not exactly won loads of trophies, and you look at the job that Ole Gunnar Solskjaer is doing with, admittedly, much more resources – Ole Gunnar Solskjaer is doing a very good job. 
"Would I swap Marcelo Bielsa for Ole Gunnar Solskjaer? The honest answer is – I wouldn't. I genuinely wouldn't do that." 
Is Bielsa overhyped?
YES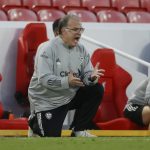 NO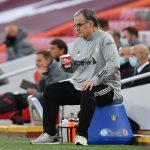 TIF Thoughts on what Motty had to say about Bielsa…
Bielsa has been described as one of the most influential coaches of modern football, with Pep Guardiola and Mauricio Pochettino among his admirers. 
So, with that in mind, perhaps judging him solely by the number of trophies he's won, would be missing the point as to why he's received so much praise from some. 
Per the BBC, Guardiola himself refuted the argument that Bielsa may not be so great because of his trophy haul by explaining that he has had a positive influence on all former players of his and with that in mind, as well as the fact that he has achieved success with his Leeds side, perhaps Motty's criticism of Bielsa is unfair.