Leeds United fans on Twitter have been responding to the latest comments made by Whites winger Jack Harrison. 
This comes after Leeds news Twitter account @LeedsUtd_News shared a post on their page relaying comments made by Harrison on Leeds manager Marcelo Bielsa during a recent episode of the Que Golazo Podcast.
On the topic of Bielsa and how he is learning to speak English, Harrison revealed that Bielsa has been taking English classes and tries to speak more and more English.
Harrison also said that the Argentine read one of his speeches to the players in English for the first time, calling it "incredible."
This post then gathered a lot of replies from Leeds fans who were quick to share their thoughts on this news.
So, what did these Leeds fans think of Harrison's comments on Bielsa?
"He is the perfect man. Won't hear otherwise." 
One fan even stated that this surely means that he's staying at Leeds, with the fact he's learning English possibly pointing towards him staying in the country. The Whites boss signed a one-year deal back in September to remain at the club for the 2020/21 season, but it remains to be seen as to whether he'll extend his stay at Elland Road, though it seems as if this fan in particular believes that his English lessons point towards a potential extension. Andrea Radrizzani stated back in October that he wants to continue working with Bielsa, but did state that he doesn't know how long the relationship will continue.
"Surely he's staying then #lufc"
"He loves the club you can tell he is not going anywhere else its a perfect fit I really hope we get some more pots and pans with him in charge I believe he won't rest until he does." 
"Good news for him extending his contract surely ??" 
"He's not doing it for for 5 months at @LUFC anyway .This is a great sign ! Perhaps theres more seasons to come he's fallen in love with #leeds #leedsunited would you blame him #ALAW Heres to hoping ! We love you Marcelo ! #bielsa #LeedsUnited #legend"
"if he's doing this then he's surely gonna have longer at the club" 
"Time to cry"
"Fantastic news well done Bielsa"
Looking at the replies to this post, it's clear to see that these Leeds fans are delighted to hear that Bielsa has been making progress with his English.
It's also interesting to see some Leeds fans suggesting that this news on Bielsa could mean that he is intending on remaining at the club beyond his current contract which runs out at the end of this season.
Do you think Bielsa will sign a new deal at Leeds?
Yes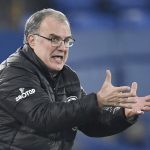 No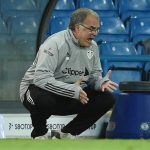 In our view, with Bielsa guiding Leeds out of the Championship and back into the Premier League after 16 years out of it, it's no surprise that these Leeds fans would be hopeful of keeping hold of their manager for as long as possible.