Former Derby County player and coach Eric Steele joined presenter Chris Coles on a recent edition of the BBC's Sportscene Podcast where he spent some time talking about Rams owner Mel Morris. 
Morris has been trying to sell the East Midlands club for over a year now, with a takeover bid from Sheikh Khaled bin Saquer Zayed Al Nehayan currently pending.
During this podcast, Steele talked about what led to Morris making the decision to put the Championship club up for sale and the pundit claimed that "the final straw" for Morris may have been when he determined that Phillip Cocu, who was sacked back in November, wasn't the man to take the club forward in the long-term as he'd hoped he would be when the Dutchman was handed a four-year deal on arriving at Pride Park in July 2019. 
Steele said: "If he's given Cocu the four-year deal, he's obviously seen that as being a long-term development for the club and I think that might've been the final straw when it didn't work and in the end, as you know, it's been well, well held in the public eye that Mel's had enough, he wants to sell."
Are you surprised by Steele's claim?
YES
NO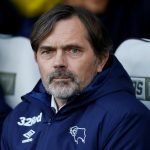 TIF Thoughts on what Steele said about "the final straw" for Morris…
It's interesting that Steele believes Cocu's failure to take the club forward as Morris had initially hoped was the determining factor in the Rams owner deciding to put the club up for sale, especially as Morris has reportedly been trying to sell the club since 2019, just a few months after he appointed Cocu to the Pride Park hot seat, which would suggest that the Derby owner made this determination quite quickly. 
Could this mean that if Cocu had brought more success to the East Midlands club in his role as manager, Morris would not be trying to sell up? 
If the club were closer to achieving promotion to the Premier League, you could certainly argue that it would make more sense for Morris to wait until that feat was achieved to sell the club, given that Premier League clubs are allegedly worth as much as 60-70% more than Championship clubs.
As Morris opted not to hold out hope that his club would achieve promotion under Cocu, however, it seems like Steele may be onto something with his claim.
Related posts