The Athletic's Wolverhampton Wanderers reporter Tim Spiers appeared on a recent edition of the TIFO Football Podcast and the journalist spent some time talking about Old Gold boss Nuno Espirito Santo during the show. 
Spiers brought Santo up while discussing the fractured skull that Wolves striker Raul Jimenez suffered during the West Midlands club's 2-1 win over Arsenal last weekend. 
This injury provoked plenty of concern amongst Jimenez's teammates, as per the BBC, and as stated by Spiers during this podcast, Wolves boss Santo was also visibly concerned about his player while watching medical personnel tend to him from the sidelines. 
Spiers said: (4:07) "He's a very sort of emotional man, really, he tries to hide it with the media but it does come out and you couldn't help but notice that his mind was elsewhere. I thought the same during the game when the camera kind of panned to him and his eyes looked really soft and he was sort of staring into the distance. Post-match, again, you could kind of tell his mind was elsewhere."
The journalist then went on to say that he believes the Portuguese coach has allowed more of his real personality to shine through this year, with Spiers stating that Santo's "mean facade" has begun to slip, saying: (5:14)
"I've noticed that this year actually, throughout the pandemic, it's really kind of affected him and he's worn it heavy on his shoulders and not really been able to hide that, so his mean facade that he's conjured up over the past few years is starting to slip a bit and we're really starting to see the real man."
Do you think it's good to have a relatively small squad?
YES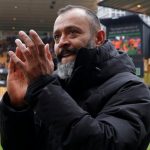 NO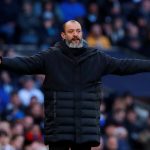 TIF Thoughts on what Spiers had to say about Santo…
Only two top-flight teams have used fewer players than Wolves in the Premier League so far this season and Santo has explained in the past that he favours having a smaller squad at his disposal. 
So, with the Portuguese coach overseeing a tight-knit group at Molineux, perhaps it would make sense for Santo to have developed a relatively strong bond with plenty of his players. 
Provided fitness issues don't rear their head, surely it doesn't hurt Wolves' on-the-pitch performances that Santo likes having a smaller, tight-knit group, with whom he can develop closer relationships, especially as he has guided Wolves from the second-tier all the way to UEFA Europa League football since joining the club in May 2017, so it may be difficult to fault his methods.
So, perhaps this personable element of his personality is something that his players have been aware of for quite some time.